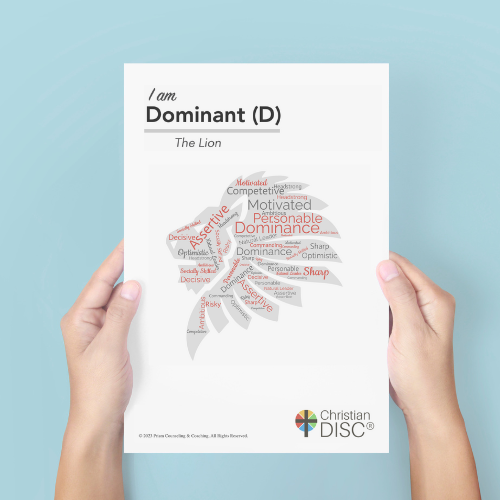 Profiles of the Four Types
Our word cloud profiles are a quick and easy way to learn about the four types of the Christian DISC®. Each printable PDF features a word cloud with various descriptors of each type inside the shape of its symbolic animal.

​Workplaces can utilize these profiles by having each team member take the assessment, print out the profile of their primary type, and post them at their workstation for other team members to see. It's a great way for members of your team to get to know one another better. You can use these to share with others in your company, non-profit, church, or ministry. Click below to download each:
Presentation Tools
These outlines and slides are designed to provide you with materials to effectively communicate the key principles of the Christian DISC® and its usefulness in communities. We understand the importance of clear communication and want to help you make the most of your presentation.
Presentation Outlines

This download contains a PDF with two possible outlines perfect for those looking to present on the Christian DISC®, whether it be in a church setting, at a retreat, or during a team training. The outlines provide a basic structure for your presentation, organizing how to briefly cover the key principles of the Christian DISC®.

Download Now

Presentation Slides

Enhance your presentation on the Christian DISC® with our free PowerPoint download, which includes a variety of blank slides featuring images about the Christian DISC®. These customizable slides can help capture your audience's attention and reinforce all of your key points throughout your presentation. 

Download Now
Group Tools
Resources for groups who want to explore personality from a biblical perspective. Our games and icebreakers are a fun way to introduce the basics of the Christian DISC®. The group outline contains a study in scripture, questions to evaluate your Christian DISC® results, and discussion questions to facilitate group conversations. 
Group Outline

This download is a printable PDF that can be used with small groups learning and using the Christian DISC® together. Included are group discussion questions around Romans 12, followed by questions to facilitate discussion around the four types over 4 to 5 sessions.

Download Now

Games & Activities

These icebreakers and games can help participants become familiar with the Christian DISC® model and encourage open discussion about the four personality types. Features six game ideas including a printable bingo card.

Download Now
Reflection Tools
These are printable versions of the personal devotion and the Wheel of Emotions that are included at the end of each assessment report. Both tools can help participants unpack, discuss, and reflect on their results.
Personal Devotion

This download is a printable journaling version (PDF) of the personal devotion that appears at the end of each assessment report. It features a study of Romans 12 with corresponding reflection questions and journaling prompts that can be used to reflect on one's assessment results.

Download Now

Wheel of Emotions

A printable PDF version of the Wheel of Emotions that appears at the end of each assessment report. Includes both full-color and black-and-white versions suitable for printing. An excellent tool for personal reflection or to improve communication with couples and groups.

Download Now